"Bohemian Trio is a chamberlike improvising trio [that] specializes in music of traditional Latin American origin, though its methods are cosmopolitan." – The New York Times
"Alonso and Terry, Cuban-born and trained, and the French-American Dharamraj are paving a new course, one that wholly relies on their refined abilities while embracing that dangerous, edgy quality one finds in complex jazz and lots of contemporary classical music." – Adam Parker (The Post and Courier)
"I have listened to the trio before and they brought me a big surprise, what I expect is to once again be surprised." – Larry Blumenfeld (Wall Street Journal)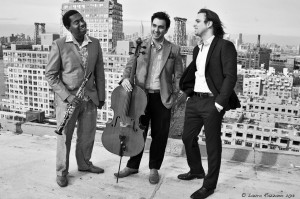 Despite being immersed in different cultural and musical backgrounds, Yosvany Terry (saxophone and chékere), Orlando Alonso (piano), and Yves Dharamraj (cello) formed Bohemian Trio in 2013. The three musicians were drawn to the idea that their blend of traditions would speak to the true voice of the Americas: a cacophony of cultures that, together, forges a new identity that transcends Old World boundaries.
Bohemian Trio intertwines earthy, Afro-Cuban rhythms with the sweeping melodies of Classical, the improvisation of Jazz, and the celebration of Latin dance to transport its audiences. These musical narratives, deftly woven into original and commissioned works, simultaneously evoke joy, passion, and a longing for a bygone era that is dissonant with today's world.
Invited by Tania León and the Composers Now Festival to make their debut on the Music of Now Marathon at Symphony Space in New York City, the trio has since made appearances at prominent music series such as Pocantico, Wave Hill, Jazz Gallery, Deer Isle Chamber Music, Bargemusic as part of the Make Music New York Festival and more recently at Spoleto Festival USA.
Videos