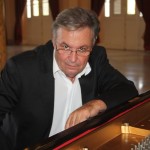 José María Vitier is a distinguished Cuban composer and pianist. With his music for piano, symphonic orchestra, choir and different ensembles of classical music and jazz, he has found an innovative way of linking high-brow music with the traditional roots of Cuban music. His work, of outstanding originality and deep Cuban flavor, has been played by important performers and bands from Cuba and the world.
He has composed the soundtrack of more than 60 films, among them Fresa y chocolate, which was nominated for the Oscars, and other movies whose music has received  awards as the Ocella Award at the Venecia Film Festival in 1987 or the Coral Award at the International Film Festival of Havana.)
(Some of his most popular works are the Misa Cubana, performed in more than sixteen countries; his symphonic oratorio Salmo de las Américas; his cantataEl cantar del Caballero y el Destino, whose first performance was conducted by Vitier himself at the Karl Marx theater in 2008; a copious pianistic work where stand out especially his Danzas cubanas which are widely known, in Cuba and abroad, and his Canciones para voz, piano y orquesta, and recently his operaSanta Anna whose libretto was written by the Mexican novelist Carlos Fuentes.)
(Vitier has recorded more than 25 CD as composer and performer. In 2000, his CD Salmo de las Américas was nominated to the Latin Grammy Award between the best five albums of classical music. Additionally, many others of his CD have received awards such as the Cubadisco Award including the Great Prize for the best Cuban recording of the year [Misa cubana in 1998 and Canciones del Buen Amor in 2002], the Honorary Award to his whole work at Cubadisco 2007 and the Especial Award for his 10 albums compilation José María Vitier, 30 años de música at Cubadisco 2009. He also received the Award for the best album of chamber music at Cubadisco 2012. In 2011 he received the Diploma to the Artistic Merit bestowed by the Superior Art Institute of Cuba.)
José María Vitier has performed extensively around the world taking part in many festivals as a pianist as well as touring in many countries of Europe and America. He has frequently been invited as a conductor in order to conduct his work both in Cuba and abroad (Mexico, Spain, Italy, Dominican Republic, etc.)
His work as a teacher is of equal importance, particularly his master classes and workshops in Music for the Image in the Casa de América in Madrid, the headquarters of the Sociedad de General de Autores (SGAE) in Madrid and Bilbao, the cinema festivals in Mérida (Venezuela) and Biarritz (France). He has been invited regularly to impart master classes of music for films in various cities in Mexico by institutions such as the Fundación Autor, the Instituto Buñuel and the Programa Ibermedia.
Vitier has also been nominated as candidate to the Premio Iberoamericano de la Música Tomás Luis de Victoria in its 2002, 2004 y 2006 editions. He received the Distinción por la Cultura Nacional, the Alejo Carpentier medal y and the Félix Valera order, which is the highest award bestowed in Cuba for artistic merits and contributions to the national culture.
Videos



Upcoming Events
Misa Cubana
April 24 at 5 p.m.
Fritsche Theatre of Otterbein University's Cowan Hall
Buy Tickets