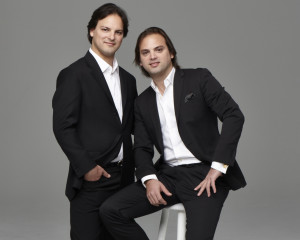 Piano Duo
Equally talented, these brothers dazzle with their artistic exuberance and passionate expression.
Having played the piano since they each were six years old, Orlando Alonso and Orlay Alonso both attended the National School of the Arts in Havana, earned degrees from Manhattan School of Music and Yale University, among several other prestigious institutions.
As a duo, each brother brings his own signature style to the stage. Inspired by their communicative gifts, elegance and polish, the Alonso brothers shine with a charismatic stage presence that is a pleasure to behold.
"For them, it is never about showing off what they can do technically, but rather about bringing the listener into the meaning of the music. They are real virtuosos of their instrument not only because of their rock solid performances, but because of their considerable intelligence, sensitivity, intense feeling and contagious joy." – Anthony Aibel for New York Concert Review
Videos





UPCOMING CONCERT
Tuesday, October 25, 2016 at 8:00 PM at Weigel Hall at The Ohio State University.