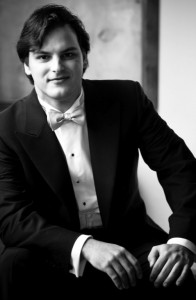 Cuban-American pianist Orlay Alonso has been lauded as a "rising young star" and "a real virtuoso" (Anthony Aibel, New York Concert Review). Equally at home with solo, chamber and concerto repertoire, Alonso is "committed to sharing every note with the audience" (Aibel). With his instinctive communicative gifts, Alonso takes the audience along on his imaginative and thought-provoking journey.
Alonso has captivated audiences with his elegance and intensity since his debut at Carnegie Hall's Weill Recital Hall in 2003. In the words of renowned German pianist, Claude Frank, "one comes away from his [Alonso's] performances inspired." He has graced the stages of some of the most prestigious concert halls across the globe, including Steinway Hall, The Ohio Theatre, Columbus Museum of Art, Wexner Center for the Arts, Cary Hall at The DiMenna Center, Liederkranz, Klavierhaus, Trinity Church, The Palace of Fontainebleau, Hamilton Conservatory for the Arts, and The Spanish Institute, among others.
Alonso has been featured in recital programs with pianists José María Vitier and Orlando Alonso, as well as cellist Mihai Marica, Cora Kuyvenhoven, and Pei-An Chao, violinist Dan Zhu, and Alicia Hui, violist Karl Pedersen, clarinetist David Thomas, bassoonist Betsy Sturdevant, horn Adam Koch, trumpet Antonio Marti, oboist Robert Royse, soprano Eglise Gutiérrez, and Jennifer Hambrick, mezzo-soprano Olga Perez Flora, tenor James Flora, guitarists Evan Drummond and contrabassist John Pellegrino. He has appeared as a soloist with orchestras throughout the United States, including the Bronx Arts Ensemble, the Kankakee Valley Symphony, Ossia Symphony Orchestra, The Ohio State University Symphony Orchestra, the Manhattan School of Music Orchestra, and has worked with such acclaimed conductors as Rossen Milanov, Jonathan Strasser, David Gilbert, Allan Dennis, Luis Biava, and Marshall Haddock. His impressive array of teachers and mentors includes Lilian Kallir, Claude Frank, Horacio Gutiérrez, Juana Zayas and Steven Glaser.
Alonso is a frequent guest of colleges and universities across the United States, including Yale University, Capital University, The Ohio State University, Otterbein University, Syracuse University, Queens College, Eastman School of Music, The New School, the State University of New York (SUNY) at Fredonia, SUNY at Buffalo State, the City University of New York (CUNY), Mansfield University, and Bloomsburg University, where he plays recitals, gives lectures, and conducts masterclasses.
His electric and engrossing performances have earned him top prizes at numerous national and international piano competitions, including the Artists International Young Artists Piano Award, the Ohio State Concerto Competition, the Kankakee Valley International Piano Competition, the Joyce Dutka Arts Foundation Competition, The Young Bronx Artists Competition, the Kingsville International Piano Competition, the Isabel Scionti International Piano Competition and the Queens College Cultural Heritage Competition.
Alonso obtained his doctorate degree from The Ohio State University in 2015 and holds graduate degrees from Yale University and the Manhattan School of Music. During his professional studies, he was the recipient of two Graduate Achievement Awards, the Gertrude Kuehefuhs Piano Accompanists Endowment Fund Award, and the Edward F. Hayes Graduate Research Forum Award from Ohio State; as well as the Albéniz Institute of Music Commendation for Outstanding Achievements and the Ann-Marie McDermott Memorial Scholarship, and the Parents Association Prize at the Manhattan School of Music.
In 2010, Alonso was one of a small group of individuals selected to receive a prestigious alumniVentures grant from the Yale University School of Music to support Music in the Heights, an outreach program of the at the George Washington Educational Campus in Washington Heights, New York City. The program brought four yearly outreach concerts to the community, as well as afterschool instrumental lessons and ensemble coaching for 30 underprivileged children.
Giving back and helping others was deeply ingrained in Alonso from an early age. Aside from Music in the Heights, he has organized and participated in benefit concerts in support of CityMusic Columbus, the World Trade Center Memorial, the World Schools Foundation, Voices for Hospice, the VA Medical Center in Bronx, New York, and the West 74th Street Residence, an adult residential living space in New York City that provides affordable housing and social services for elderly citizens.
Outside of his busy solo career and numerous volunteer projects, Alonso finds time to tour and perform internationally alongside his brother, Orlando, under the moniker, The Alonso Brothers. The duo, who has been lauded by the New York Concert Review for their "intense feeling and contagious joy," will take part in Mexico's Festival Internacional de la Cultura Maya and will tour Cuba for the first time in 20 years in partnership with WOSU and a select group of benefactors. Alonso also performs as part of the Alonso-Drummond Duo, a guitar and piano duo that focuses on Cuban and Spanish music and 614 Music, a Columbus-based quintet composed of principals from the Columbus Symphony Orchestra.
Alonso calls Columbus, Ohio home, and recently joined the faculty at Capital University's Conservatory of Music.
NOW PLAYING