"Cuban virtuoso Jorge Luis Prats is an old-fashioned romantic. …after a while it is easy to take his fabulous technique and palette of tonal colours for granted." – Gramophone
"The best pianist you haven't heard of"- BBC Music Magazine
"Prats translates wonderfully the slow swagger of music that involves the hips, while preserving the clarity of every detail."- Diapason
"Even in these technically impressive times, playing of this caliber is rarely encountered"- The Miami Herald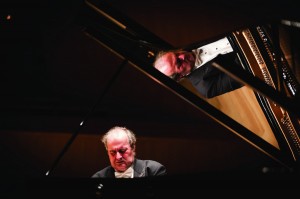 Since May 2007, when Jorge Luis Prats gave his first recital at the Miami International Piano Festival, his career has undergone a dramatic ascent. His debut recitals at the prestigious "Meister Pianisten" series at the Concertgebouw in Amsterdam having been received with standing ovations, in 2010 he returned to the same series for the third time, an honor uniquely reserved for Brendel and Sokolov previously).
In May 2010 Jorge Luis replaced Nelson Freire at his Salle Pleyel recital, to a tremendously enthusiastic response from the public and in September of the same year he again triumphed at the festival "Piano aux Jacobins" in Toulouse. Following these successes, he has been invited by the organisers of several prestigious French series to perform in Autumn 2011 at the Grand Interpretes in Lyon, at the Grand Theatre de Aix en Provence, a re-invitation from the Piano 4 Etoiles series at Salle Pleyel and to perform Rachmaninov with the Orchestre de Paris under Paavo Järvi. Jorge Luis has toured Europe, Latin America, China, Japan and Korea and has played with Royal Philharmonic Orchestra in London, BBC Symphony Orchestra, Dallas Symphony etc. In Mexico, he has performed with the Mexico City Orchestra, the Ofunam Orchestra and the Jalapa Orchestra and in South America with the Columbia Philharmonic, Simon Bolivar Symphony Orchestra and Caracas Municipal Orchestra.
Regularly invited as professor by the respected institutions such as National University of Columbia in Bogota, National School of the Arts in Havana, the Arts Centre in Mexico, the Conservatory of Cordoba in Spain and Royal Conservatory in Toronto, he was also the Artistic Director of National Orchestra of Cuba from 1985 to 2002.
Jorge Luis Prats was born in Camaguey in Cuba in 1956, studying with Cesar Perez Sentenar, Barbara Diaz Alea, Margot Rojas and Alfredo Diez at National School of Arts. On graduation, he was awarded a scholarship to the Tchaikovsky Conservatory of Moscow where he studied with Rudolf Kerer and he continued his studies at Conservatoire de Paris and later at the Hochschüle für Müsik und Künstler in Vienna with Paul Badura Skoda and Magda Tagliaferro. At 21 years old, Jorge Luis won the first prize at the prestigious Concours Marguerite Long – Jacques Thibaud in Paris as well as the special award of best interpretation of works by Ravel and Jolivet.
Jorge Luis Prats discography includes the first recording ever of Scriabin's 24 Preludes, concerti by Beethoven, Grieg, Rachmaninov and Chopin as well as works by Cuban composers. His concert at Broward Center for the Performing Arts for the Miami's International Piano Festival was recorded and released as DVD by VAI.
Jorge Luis has recently signed an exclusive recording contract with Decca and his first recording with them will be Granados by Goyescas, to be released in June 2011.
Review from Verbier 2011 BBC Music Magazine…
A Cuban marvel
Jorge Luis Prats: the best pianist you haven't heard of  
Jorge Luis Prats. The name probably doesn't mean much to most of you, but yesterday (Saturday), the 55-year-old Cuban pianist gave one of the most thrilling and joyful recitals I've ever had the pleasure to attend.
The concert, held at Verbier's parish church just after lunch, was only three-quarters full, but everyone there was in no doubt that this was the finest concert that day (it really was). Verbier audiences aren't given to standing ovations, but at the end of Prats's fifth encore, almost everyone was upstanding. Prats was visibly moved.
Why the fuss? Prats is a player who digs deep to uncover the humanity within the music he plays, his life experiences colouring his performance of Granados's Goyescas ('much harder than Liszt', he tells me afterwards). 'In Cuba, we dance with the hips', he laughs, explaining the need for this Spanish music to be rhythmically fluid. He talks of the Cuban national symbol – the royal palm tree, that bends and sways with the wind. It's a powerful image that conjures up a freedom from the notated meter that Latin music so often cries out for. And his playing has that freedom, the love between Granados's two young characters bending and swaying with their moods, even at the final movement when death threatens their life together. Prats speaks of the nightingale that gazes down on our lovers – notated pianissimo by Granados, but taken by the pianist to be a direction for expressive beauty rather than simply one of volume. It's a masterclass of interpretation and one that can be applied to music of all kinds. 'Remember that this music has been written by human beings', he implores me over our beer. I will.
Prats launches into several encores, including dances by the Cuban composer Cervantes – remarkable, spirited, virtuosic works that combine a yearning romanticism with warmth and humour, the pianist breaking off several times to play tom-toms on the piano wood. Cuban music, naturally, is one of Prats's big passions, and yet he's reluctant to talk about his home country – its terrible economy has seen to the country's culture, its colleges and orchestras either no longer functioning or shadows of their former selves.
He tells the story of Cuba's national symphony orchestra, how he helped set it up using a handful of strings, and how he played the organ at one of Havana's great churches. Returning there recently, he discovered that a plaque had been erected in his honour over the same piano he used to practise on as a young man. He now lives in Miami.
Jorge Luis Prats is an extraordinary musician, so why haven't we heard about him? He doesn't play the big UK venues and his appearance at the Verbier Festival is his first. You get the sense that Prats is happier living a life of music, but not a life in the skies. You can't blame him. His cooking is as important to him as his music, not to mention his Cuban cigars… He's too busy enjoying life.
But on 21 July, Prats plays at the Petworth Festival. If there are any tickets left, I'd urge you to go and hear him. He's playing Goyescas again. This master pianist is unlike any other. – Oliver Condy (BBC Music Magazine)
Videos